Alumni Hall of Fame
When Honda Campus All-Star Challenge celebrated its 15th year, the HCASC Alumni Hall of Fame was established, to acknowledge former players who have succeeded in their chosen career and life paths, and to facilitate their becoming mentors for the current generation of HCASC players.
These former players represent the excellence that comes from studying hard, networking, applying oneself and most of all, from pursuing a life goal with all your intellect, heart and soul.
The HCASC Alumni Hall of Fame is a continuing effort and each year, one or more additional former players may be inducted.
We invite coaches, volunteers and former players to nominate former players. The selection committee is anonymous and will evaluate all submissions received.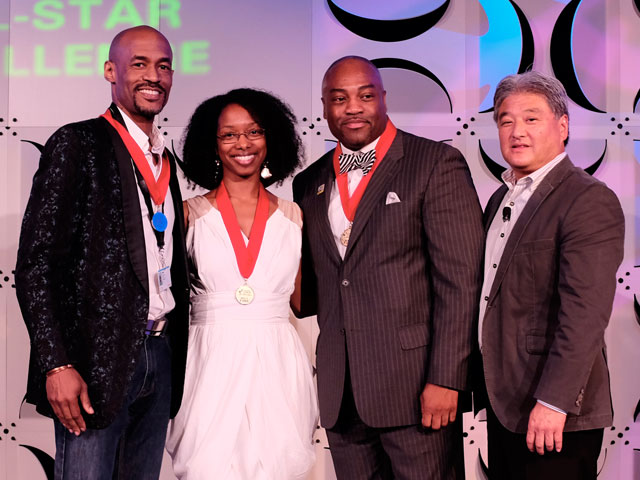 2015 Inductees (l to r) Daniel Moss, Monita Bell, Mark-Anthony Middleton, and American Honda's Steve Morikawa.
We are proud to introduce the HCASC Hall of Fame members:

Monita Bell


Monita Bell has taught composition and literature courses at several universities and authored "Getting Hair 'Fixed': Black Power, Transvaluation, and Hair Politics."

She currently serves as an editorial team member for Teaching Tolerance, a project established by the Southern Poverty Law Center in 1991, where she helps to craft and publicize anti-bias education resources.

Monita (along with her twin sister) was a 4-year HCASC player and obtained the Bachelor of Arts in English from Alabama State University and the Masters of Arts in English from Auburn. She serves in community medical centers, assisted living facilities and with families in need in the Auburn/Opelika area.

It's been her privilege to be a part of HCASC as a player and an alumni volunteer. She serves as a moderator at the qualifying tournaments and at the National Championship.



Mark-Anthony Middleton

Mark-Anthony Middleton was the captain of North Carolina A&T State University's 1991 HCASC team and received the Unsung Hero of the Civil Rights Movement awarded by his alma mater. He is a leader in Durham CAN (Congregations, Associations, and Neighborhoods) Organization which is one of the most prominent community organizations in the Triangle.

He is the Founder, Pastor and CEO of Abundant Hope Christian Church in Durham, NC and received the Master of Divinity degree from the Duke University School of Divinity.

A frequent guest on National Public Radio's "The State of Things", this community activist coordinated and led clergy efforts that brought historic change in the area of racially-biased policing in Durham. He was featured in the New York Times for this important work.


Daniel Moss
Daniel Moss is a 4-year HCASC player from Claflin University. He partnered with his brother, a Hampton University Alum, to launch the first social network targeting African Americans. With millions of online subscribers, HBCUConnect.com is the first and largest online HBCU-related destination. The network has expanded to more than a dozen sites that provide content to a variety of media channels including the nationally syndicated Tom Joyner and Steve Harvey morning radio programs.

Additionally, he has worked with Toys for Tots for the past 12 years and served as an advisor to The HBCU Foundation, Inc., the fundraising/scholarship arm of his landmark web empire.

A talented artist, Moss unveiled eight of his paintings created in honor of his alma mater at a special ceremony in the Spring of 2015. In addition to his artistic pursuits and internet businesses, Moss serves as the general manager of Capsoul Records.




Malick Badjie

Malick Badjie was a four-year HCASC player for Tennessee State University. Upon graduation, he settled in Africa and ended up managing $13 billion in institutional business for his employer. Currently, Malick serves as Director and Head of Investment Solutions at Silk Invest, a global Frontier Market Asset Management boutique with a wide range of financial products.

Malick counts HCASC as one of his best college experiences. He has returned to his alma mater on numerous occasions to give talks on international business opportunities and to support the TSU Honors College.

A giving person, Malick has generously supported Tennessee State and conducts charity work in Africa. Through it all, Malick says the knowledge, effort and dedication he learned in HCASC has been tremendously beneficial to his globe-trotting career.


Thomas Cunningham

Thomas Cunningham played HCASC for Florida A&M 1991 and 1992, snagging All-Star honors and the championship in FAMU's first appearance at the NCT. After graduating with a degree in Broadcast Journalism, Tom ventured to Los Angles and immediately began supporting HCASC as a staff member. Later, he worked in independent television and radio production, travelled the world as a manger for R&B sensation Montell Jordan and produced the millennium web relaunch for Walt Disney World Resort before returning to employment at College Bowl.

Tom lends his talents to a range of non-profit foundations and issue advocacy organizations with interests in the educational sector. As a member of Kappa Alpha Psi, he mentors participants in the Achiever Program and serves as managing editor of the award-winning Kappa Journal. Additionally, he works with his family's foundation which awards scholarships to students at Wiley and Prairie View A&M.



Keyonn Pope

Keyonn Pope participated in HCASC as a Southern University - Baton Rouge Jaguar. Later, he utilized his electrical engineering degree as a member of a design team that developed a fuel-electrical hybrid mining truck before earning a Juris Doctor degree at University of Illinois College of Law and teaching at Howard University.

Like most members of the HCASC family, Keyonn has fond memories of his HCASC days and says that it's refreshing to be around people who find learning fun and where it's "cool" to be the most knowledgeable.

Currently, he represents entities in intellectual property litigation and transactional matters during the day, while supporting philanthropic efforts for disadvantaged youth, prison ministry and sons of absentee fathers in his spare time.



Dr. Natalie Tindall

Dr. Natalie Tindall played for Florida A&M University for three seasons, from 1998-2000, including back-to-back championships in '98 and '99. After graduation, she pursued her doctorate in Journalism, concentrating her focus in the areas of indentity and diversity. She has also served as an HCASC volunteer, moderating matches at the Pre-NCT and NCT level.

In 2013, she received tenure as an associate professor in the Department of Communication at Georgia State University, becoming the first Black woman in more than 20 years to do so. She has published her first paper which addresses the issue of stereotypes within historically Black fraternities and sororities.


Malcolm Sykes

Malcolm Sykes played HCASC for Prairie View A&M University in the late 90s. He continued to support HCASC by volunteering fo his alma mater. Later, he would receive a Masters in International Business Management from South Africa's University of Witwatersand as well as an MBA from Indiana University's Kelley School of Business.

Throughout his career in the financial services industry, he has managed hundreds of millions of dollars in assets. In his current capacity as Vice President for Business Development at Wells Fargo, he is responsible for acquiring new middle market commercial banking relationships.


Mark Branch

Mark Branch played HCASC for Morgan State University during the first two seasons of HCASC, 1989 through 1991. After graduating with honors and dual degrees in Physics and Engineering Physics, he began a lifelong career at NASA/Goddard Space Flight Center.

In various capacities over the past two decades, Mark has supported high profile NASA missions such as the Space Shuttle and the internationally acclaimed Hubble Space Telescope. Today, he is responsible for three world-class test facilities and he oversees a group of engineers and technicians compatibility and testing on used in space flight.

He serves as a role model to young people, particularly those in under-served communities, demonstrating that they can accomplish anything through strong desire and focused attention.



Blake Dye

Blake Dye served as Team Captain at Winston-Salem State University in 1991 and 1992. After graduating Cum Laude with a degree in Urban Affairs, he earned his Master of Public Administration from Appalachian State University. Working with an arm of the Children's Defense Fund, Dye developed a mentoring program involving graduate, undergraduate and secondary students in the community. He later explored his passion for education by serving under-represented student populations.

Later, Blake served the Federal government at the Department of Justice and the Department of Transportation before moving on to other opportunities in public service. His experience has made him a sought-after panelist and presenter on diversity topics.

In his present role, he manages the Oregon Department of Transportation's College Relations program.


LaDonne Lankster

LaDonne Lankster was a player for Virginia Union University from 1994 to 1997. After graduating Summa Cum Laude as the Salutatorian of her class, she earned her juris doctorate from the Howard University School of Law.

Today, she is a member of the Maryland bar and works to assist refugees with resettlement in the United States. LaDonne also serves as Global Missions Team Leader for Pastor Lance Watson and Richmond's Saint Paul's Baptist Church. A winner of the Excellence for the Future Award in Environmental Law, she says that her biggest reward is helping others.


Tweail S. Moten

Tweail Moten played for Albany State University from 1995 to 1998. A member of Phi Beta Sigma fraternity, he was a double-major cum laude graduate in history and political science.

He is a nationally certified Parliamentarian who has served on the Board of Directors for Special Education in Dougherty County, the READ Foundation, and The Royal Crescent Foundation.

A Pi Alpha Sigma Man of the Year, he was selected as one of Albany, Georgia's outstanding 40 under 40. Moten is the current state director of Collegiate Affairs Georgia.


Robert Vince Evans

Robert Vincent Evans attended HCASC as a player for Lane College from 1996 to 2000. After graduating with his bachelor's degree in history, he earned his masters degree in international relations.

As the director of diversity at St. Louis University High School, Evans also serves as a tutor with Boys' and Girls' Club, and co-founded the organization Black Men Speak Up.

An annual volunteer at Harris-Stowe's Pre-NCT tournaments, Evans also founded and serves as tournament director for the St. Louis Metropolitan Black History Knowledge Bowl.


The Rev. Dr. Robert Scott

The Reverend Dr. Robert Charles Scott attended HCASC as a player for Jackson State in the first two years of our program, 1990 and 1991.

After graduating, he earned his master's in divinity from Duke, and his doctorate from Ohio's United Theological Seminary. Inducted into the Morehouse College Board of Preachers, Dr. Scott has also been selected as one of the top twenty young preachers in the country, by the respected journal, "The African American Pulpit".

Today he serves as the pastor of Central Baptist Church, one of the fastest growing churches and the second oldest African-American Baptist church in St. Louis, Missouri.


Randy Johnson

Randy Johnson played HCASC for North Carolina Central University in 1993 and 1994. After receiving his Bachelor's degree in 1994, Randy went on to receive his Master's degree, also from N-C-C-U, in 2002.

He worked for IBM while finishing his master's thesis and moved on to Law School at the University of Pittsburgh, graduating in 2005. He directs a youth court diversion program in North Carolina that is designed to give first-time juvenile offenders a second chance to avoid a criminal record.

Randy merged his legal career with service to our country as a First Lieutenant in the United States Army's Judge Advocate General Corps. His service to at-risk youth and to our nation extends our motto of "friends for life" to "friends through life."


Grace Lockridge

Grace Lockridge played for Langston University from 1990 through 1992. Since graduating from Langston in1992, Grace has worked as both a registered nurse and in school libraries at all levels of education.

A year after completing her Bachelor's Degree in Nursing, Grace went back to college, obtained a Master's degree in Library Science and began her career as a librarian at Texas Woman's University. In 2000, she returned to Oklahoma as a pediatric and neonatal nurse in Tulsa. Since 2002, Grace has been a certified teacher and Library Media Specialist in the Tulsa Public School system, while continuing to practice nursing part-time.

Her service to students ranges from her position as Co-Chair of a Scholarship Committee on Graduate Education to evaluating nominees for the only literature award selected for third through fifth grade-level books in the state of Oklahoma.


Shayla Thomas-Patton

Shayla Thomas-Patton graduated from Alcorn State. Shayla played Honda Campus All-Star Challenge in its inaugural year, 1990. A Nursing graduate, Shayla has specialized in Oncology and rural home medical care in Texas and Mississippi.

Shayla worked on an oncology floor at Mississippi Baptist Medical Center from May 1993 to May 1995. She specialized in adjunctive and palliative care of patients with female cancers, including chemotherapy administration. Shayla next worked in Home Health from May 1995 to August 1997 and specialized in treating patients in rural areas.

She earned her Legal Nurse Consultant (LNC) certificate in May, 2002. After the Mississippi office of Medicare Part B relocated in September 2006, Shayla became a Quality Improvement and Education Coordinator for Home Health Care of Mississippi, in which she is in charge of evaluating and initiating quality of care audits and chart reviews on the clients they serve. Shayla received her Certified Professional Coder (CPC) credential in October 2006.

Brian Ross

Brian Ross competed for FAMU from 1991 - 1994. After graduation, Brian served with distinction in the U.S. Army. After earning his J.D., he has served in government and private law.

Brian then began his legal career, which included stints as an Assistant Solicitor in the Office of the Solicitor General, City Court of Atlanta, and an Assistant District Attorney in the Alcovy Judicial Circuit.

In these roles, he prosecuted hundreds of bench and jury trials, including successful jury trials on crimes ranging from DUI and Family Violence Battery, to Cocaine Trafficking, Conspiracy, Child Molestation, and Rape. He also completed the DUI/Vehicular Homicide Course offered by the Prosecuting Attorneys' Council and the Trial Advocacy Course offered by the National District Attorneys' Association.

Brian is presently engaged in the private practice of law, with cases ranging from juvenile law to family law to criminal defense. Brian has extensive Juvenile Court Experience, having handled hundreds of cases of child deprivation, delinquency, and termination of parental rights.

Dr. Stephen Nurse-Findlay

Stephen Nurse-Findlay from Tuskegee played from 1991 to 1995. Stephen holds a masters degree in public health and an M.D.

After medical school Stephen began to actively re-define the principles that underpin the clinical, policy and commercial elements of healthcare through first-person professional experience in all three elements within his career.

Stephen developed his commercial acumen as a healthcare business consultant with Arthur Andersen in 2000-01. He became immersed in governmental health policy issues as a pediatric health policy analyst and research fellow at the Maryland Department of Health and Mental Hygiene in 2001-02. He added community advocaby to his resume as a Board member, and strategic planning chair for the Health Education and Resource Organization, a community based HIV organization in 2002, and as a member of the Malcolm Baldride Healthcare Award review committee that year.

Stephen currently works as a medical communications, marketing and strategic planning consultant.



No picture available

Dr. Marvin Young

Marvin played HCASC for Prairie View A&M in 1990.

After graduation, he earned his M.D. and has gone on to become a noted Urologist in southern Florida. He has actively published, presented and volunteered in the community around issues of men's health.

Myles B. Caggins

Myles B. Caggins, III played for Hampton University for four years earning a Bachelors Degree in History.

Lt. Colonel Caggins is a graduate of the Ordnance Officer's Basic Corps and the Combined Logistics Captains Career Course, with Honors, at Ft. Lee, Virginia.

Myles' military career has taken him to Germany, Albania and Macedonia. His military awards and decorations include: Bronze Star Medal. Meritorious Service Medal, Army Commendation Medal, and Army Achievement Medal.

Matthew Barnhill

Matthew Barnhill graduated with an economics degree from North Carolina A&T State University and was on his school's 1990 HCASC Nationals team.

After earning an M.B.A. in Marketing, Matthew started the Market Research Department at Black Entertainment Television. Under Matthew's leadership, B-E-T won 8 Telly Awards for promotional excellence, including 3 Gold Winner Awards. Matthew is now the Senior Vice President of Market Research for BET.

He is actively involved in community initiatives, including the Hugh O'Brien Youth Foundation and AIRS, an organization focused on providing housing and life skills training to families affected by HIV and AIDS.

Thaddeus Hoffmeister

Thaddeus Hoffmeister competed in the Honda Campus All-Star Challenge from 1992-1995 while studying French at Morgan State University. He received his Bachelor of Arts from Morgan State University, followed by J.D. and LL.M. degrees.

Thaddeus is Chief Counsel and Legislative Director for Congressman Bob Filner. Thaddeaus has served as a federal law clerk in the U.S. Federal District Court of New Jersey and as a military attorney.

Thaddeus is a Captain in the United States Army Reserves assigned to the United States Army Japan as an international/operational law attorney. He publishes articles on legal and international issues and has had pieces appear in the International Herald Tribune, Federal Lawyer, Harvard Asian Pacific Review and the Military Law Review.

Dr. Marla Black Morgan


Dr. Marla Black Morgan graduated with a degree in chemistry from Albany State University and played on the HCASC team for all 4 years. She graduated in 1998 from the University of Alabama School of Medicine and received the Samuel L. Clements Award in Neurology. After a neurology residency, where she served as chief resident, she completed a clinical fellowship. She serves on the faculty of the University of Alabama Birmingham school of medicine.

But hers is also a love story. Shortly before she got her medical degree, she married Martin Morgan, a former Tuskegee player whom she had met at the Honda Campus All-Star Challenge.

In addition to her medical work, she has continued her volunteer involvement with Delta Sigma Theta Sorority, has worked with Bed and Roses, a homeless shelter for battered women, and taught in the Birmingham AIDS Education Project and remains active in her local church and with Girl Scouts.



Clarence Tucker

Clarence E. Tucker played for Norfolk State University from 1993-1996. After graduation in 1996, he continued his studies at Old Dominion University, he received his Masters of Science Degrees in Bio-mechanics and Physical Therapy in 1998. Since then, he has served as the rehabilitation director of the Transitional Care Center, a skilled health care facility.

Clarence is also active as a mentor to physical therapy students from Hampton University's school of physical therapy and serves as an adjunct professor and clinical instructor.

Clarence is a member of Kappa Alpha Psi Fraternity and participates in numerous community and scholarship oriented programs. He is active in The Shepard's Way Church of God in Christ which is pastored by his mother.



Charles Hobbs

Chuck Hobbs played for both Morehouse and FAMU during his tenure. Honda Campus All-Star Challenge is in his blood - his mother, Dr. Vivian Hobbs, still coaches the FAMU team. Having served a year as the FAMU coach (notching a win!), he now serves as a moderator at the NQTs and NCT.

After his undergrad days, Chuck earned a law degree. He is now an attorney that specializes in criminal defense, personal injury and sports law. His caseload is varied and he received noteriety on Court TV as co-counsel during the Adrian McPherson trial. Chuck is a prolific blogger and columnist for the Tallahassee Democrat. In 2012, he launched a local tv show an blog called "Generation Next."



Ravi Howard

Hi, I'm Ravi Howard from Howard University. My final year playing HCASC was the first year of the 64-team format, 9 years ago. It's good to see so many of the same faces as volunteers, coaches and staff. It says a lot about the event itself when so many people return year after year.

When I think about HCASC, four memories came to mind: Shotgun House... Albinoism... Roosevelt... Lincoln Tunnel. Those are the answers to some of the questions I got wrong in the round robin games. Just to let you all know...eight years later I still remember. But I also remember the first question I got right. I was excited to be out of school for a few days and to be a part of something unlike any other gathering of college students in the country.

At my graduation, President Swygert announced the amount of grant money that HCASC teams had generated for their schools. Know that in exchange for your hard work, you get a great time in Orlando and you are keeping people in school.

I'm now pursuing a career with NFL Films. I write, edit and produce television programming for the National Football League. In addition, I am a writer and my novel, "Like Trees Walking," was just released by William Morrow/HarperCollins.



Syreeta Nicole Richardson

I'm Syretta Nicole Richardson, but call me Nikki. I played for Del State from 1996 through 1998. Honda Campus All-Star Challenge was one of the best experiences of my college career. I networked and met friends that I still have and keep in touch with today. Before I arrived at my first HCASC, I thought that I would be surrounded by nerds. Instead, I met people who were very much like myself, who realized that being smart and well-rounded was nothing to be embarrassed about.

I am still proud to be a member of such an elite group of scholars. When I got back home and shared my pictures, bragged about the deluxe accommodations and fun stories with all of my friends back on campus, EVERYBODY wanted to try out the next year. I still made the team for 2 more years before graduating.

I have earned a Masters in Curriculum and Instruction and work as an Assistant Principal of an elementary school in Washington D.C. I am still learning, and start my doctoral program in June. HCASC was an experience that I will never forget and I will come back every year they ask me. Enjoy this experience, because I dare say you will never encounter another one like it again.




Yusef Johnson

Yup, that's me, Yusef Johnson from Tuskegee. I played Honda Campus All-Star Challenge from 1992-1996. I probably broke the stereotype, as I was a football player and at that time, a C student. I was blessed to be on what is arguably, one of the best teams in the history of HCASC. In my opinion, the battles that we had with FAMU and Morehouse at the South Sectionals during my first 3 years on the team helped defined and refine the way that the game is played today.

My fondest game memories are getting the winning tossup against FAMU in our first championship run and then our second final against Morehouse, when we came back from more than 100 points down in the second half to win. The best thing about it all is that once the games are over, we have a blast, and get to know kindred spirits from all over the country.

I'm now at the Johnson Space Center, helping to make the future happen. I've been there 7 years now, working in the Space Shuttle program, developing procedures to help the astronauts get themselves out of some of the hairiest situations that can arise. Spaceflight will never be risk-free, but we owe it to the men and women who fly to give them a fighting chance to survive.



Bomani Jones

Hello, my name is Bomani Jones. Between 1999 and 2001, I played in two championship finals, and captained the 2001 team. I was an All-Star and the 2000 Ernie Jones Sportsperson of the Year. Without a doubt, my fondest memory of HCASC competition is the 200 point comeback CAU made in the second game of the championship series against Florida A&M. Sorry FAM, that was our year.

With my HCASC playing days behind me, I have begun a career as a freelance writer, while working on a PhD in economics. The Honda Campus All-Star Challenge provided me with networking opportunities and competition, but the most important things I have taken from the program are the friendships I have made. HCASC has become a family affair. I played while my mother coaches rival, Alabama A&M.

Look to your left and your right...one of those people may wind up sleeping on your couch. But don't sweat it...chances are they will return the favor.