History of the Honda Campus All-Star Challenge
In 1989, Honda Campus All-Star Challenge (HCASC) was established to showcase the academic excellence of HBCU students. Honda established the program to support HBCUs because of their unique and critical role in higher education, helping millions of students achieve their dreams. That aligns with Honda's guiding philosophy, "The Power of Dreams."
Over 125,000 students have participated. HCASC is a serious competition and much more: players widen their scope of knowledge, learn teamwork, sportsmanship, travel and represent their schools, become friends with school officials, including presidents, bond with their fellow competitors and develop relationships that make them, as our motto says, "Friends for Life." These friends form a vast network of support during their school days and beyond.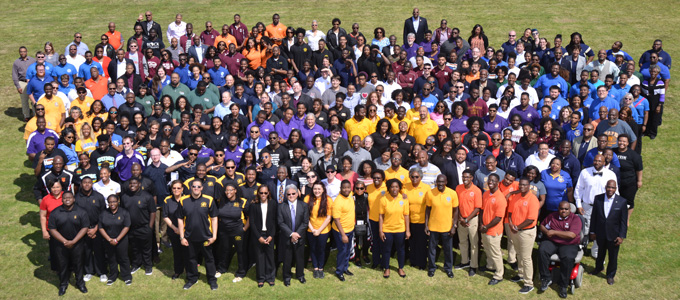 How does the HCASC program benefit student participants?
HCASC is as much a personal development and learning activity as it is a game of quick recall. Participants learn first-hand how teamwork and discipline creates success They learn that pursuing knowledge for its own sake is valuable. Players respect and celebrate each individual's contributions to the goals of their team.
HCASC participants contribute in their local communities for HBCU-initiated service projects. Through these projects, participants embody the commitment to community that is core to the HCASC mission.
How does the HCASC program benefit HBCUs?
More than $8.5 million in grants from Honda to the HBCUs have provided support for scholarships, facilities upgrades and other investments to improve the student experience.  
HCASC alumni span the globe. Their career paths are varied: they are doctors, teachers, lawyers, community builders, scientists, professors, architects, researchers, writers, journalists, military and government officials, business leaders, entrepreneurs, artists, engineers, economists, musicians and more. They share an enthusiasm for learning and have put their education to good use.
What is the HCASC competition structure?
From 1989 through 1995, the program involved campus competition, regionally based Sectional Playoffs and a National Championship Tournament. The finals during that time were broadcast on Black Entertainment Television (BET).
Starting in 1996, the National tier of the program evolved to an annual gathering of HBCUs to compete at a face-to-face National Championship Tournament. Every spring, students, coaches, campus coordinators, volunteers, HBCU presidents, and Honda associates gather to crown the National Champion.
Starting in 2014, the 25th anniversary season, teams have competed at official National Qualifying Tournaments to help determine the field for the National Championship Tournament.